We specialize in both Photography and Video Services for Weddings

Honeygo Studio offer clients tremendous opportunities when it comes to their Wedding Photography & Video. From the actual Photography to the display of their works in albums, Image One provides a Storytelling approach to Photography and DVDs.

We specialize in Modeling Head Shots and Portfolios

Honeygo Studio is a professional photography service providing high end digital imaging and computerized image retouching and manipulation. We have our licensed makeup artists on site during photo shoots and Photoshop artists at your request.

We specialize in Family Portraits as well as Special Events

We offer a wide range of photographic services to cherish your precious memories. Our specialty in event photography is shot in a creative "journalistic" manner. We shoot in an unobtrusive, story-telling style meant to reflect the individuality of you and your guests.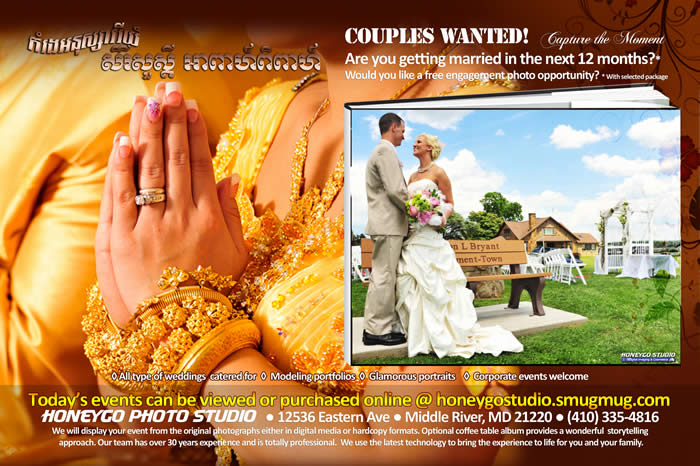 Welcome to Honeygo Photography Studio
Thank you for viewing samples of our work. We are always interested in expanding our knowledge in digital art and media. Our Master Photographer has many years of experience in photographing weddings, family portraits, car shows, aiding the TV/Movie industry, products shoot, etc.
We are available for assignments and can travel in support of any given projects on the East Coast. We are committed to bringing the best in personal service, professionalism, and creativity.
Using their hearts as a tool, our staff captures the subject's beauty in their photographs. We also possess an artistic eye for design and layout. With our easy-going personalities, unobtrusive approach combined with our organization and attentiveness, we make photography a fun experience for everyone.
Credentials:
Member of International Freelance Photographers Organization since 1988.
MA Photographer
Events & Updates
Bridal Guide 2008 by the Avenue Newspaper
Posted on 11 August 2009
We will provide an online gallery for you and your guests to enjoy. Each image will be individually corrected to the perfect color, density, and exposure. Everything we deliver is personally reviewed by our graphic artists.
Posted on 11 May 2010 We still have opening Wedding Dates. Please call to reserve your special moment. (410) 335-4816
What We Do
◊ Glamorous Portraits
◊ Weddings ◊ Special Events & Occasions
◊ Headshots & Modeling Portfolio Design
◊ Family & Corporate events
◊ Non-Linear Video Production
◊ TV/Web Commercial & Post Production
◊ Web Design & Video Uploading Services
◊ Immigration and Passport ID Photo
◊ Video VHS Conversion onto DVD format